LEARN FROM THE HEART OF EU IP KNOWLEDGE
The programme in short
As an IP hub of excellence, the Office provides customer-centric services and contributes to a stronger IP system and a better understanding of IP rights by providing customised education activities.
Created and delivered by EUIPO staff members and leading IP professionals, the ETMD EP for paralegals focuses on the interactions between the EUIPO and IP paralegals in the trade mark and design fields.
Our comprehensive curriculum provides a rich learning experience, designed to fit seamlessly into participants' full-time work schedule. The ETMD EP for paralegals offers a range of options, including scheduled and self-study activities, as well as on-site and online participation.
For further information related to the organisation of the ETMD EP for paralegals, please refer to the Guidelines.
Further information regarding the programme of studies, objectives, admission criteria, calendar and fees is available here.
For further information contact us at: etmdep@euipo.europa.eu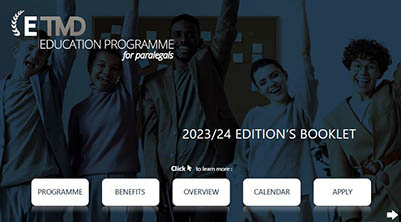 Testimonials
Have a look at the opinions from some of the participants of the previous editions of the EUIPO Trade Mark and Design Education Programme for Practitioners!